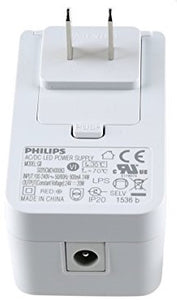 This is the power supply that comes with the Philips Hue Lightstrip Plus. This version comes with the North America style 2 prong plug adapter, though the input is universal at 100-240V AC so it may be used with different plug adapter for international use.

Note that Philips has modified this power supply multiple times in the past: This version uses a larger 3 mm ID male barrel plug consistent with the latest Bluetooth version of the Lightstrip Plus (V4) as of 2023 [Model number: S020YM2400083]. Cable for connecting to the Lightstrip Plus controller is included.

NOTE: Product image is an example only. Markings on the power supply may differ.