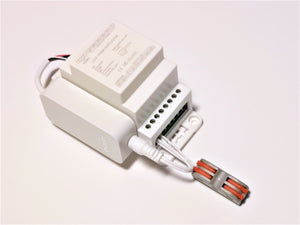 IMPORTANT: The Amplified Philips Hue Lightstrip Plus Controller has been discontinued. To control our LED strips through Zigbee or Bluetooth, please use our Heimdall Pro 5 channel LED controller. This item will be available by special request if needed, please reach out to us if you would like to purchase.



Disappointed by the diminishing brightness of the Philips Hue Lightstrip Plus controller as more length of strip is added? For a limited time, we will be offering the Philips Hue Lightstrip Plus controller pre-wired to our high frequency 5 channel amplifier to unlock it's full potential!
By using our amplifiers in conjunction with the Lightstrip Plus controller, the 0.8 Amp current limit is bypassed to increase to 25A (5A per channel). This means the brightness is no longer capped and reduced with added length.
In this configuration a larger 3rd party power supply is needed to handle the additional power draw of the strips.
 Note: This amplified controller does not come with the original 2 meter Lightstrip Plus attached, or the 24W 24V power supply. It is intended for use with our Bifröst LED strips and a larger 3rd party 24 Volt DC power supply. Please see our blog for more information.